Employer Account Signup
If you're an employer or recruiter, you've come to the right place to fulfill your adult staffing needs. SexyJobs.com is the industry leader in adult employment. For one low fee, we put your ad in front of tens of thousands of serious job seekers. All accounts include access to our database of 135,088 resumes, so you can start recruiting right away. Important Notice: You may NOT use this website for hiring for companionship, escorting, brothel work, swinger parties or dating of any kind. You may NOT use this website to advertise for massage parlor or body rub jobs. Additionally, you may not use this website for hiring for the production of adult content unless doing so is lawful in the jurisdiction of production and you have the intent to commercially distribute it. Any account found to be in violation will be immediately terminated without refund.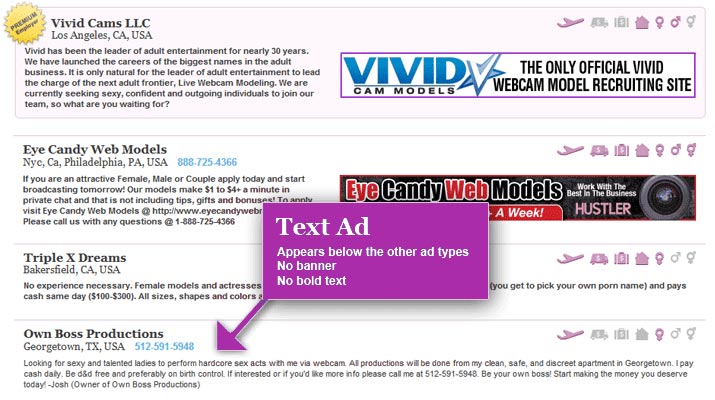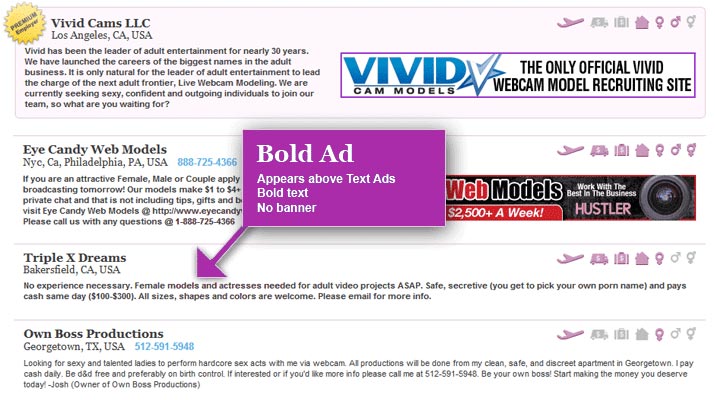 Premium advertisers seeking elite exposure may elect to add a Platinum Sponsorship. We occasionally offer additional promotions not described on this page. Click here for more information.
Reasons to Join SexyJobs
The original adult employment site - since 1998
The largest adult talent database on the internet
"More traction than any of its half dozen competitors"
135,088 jobseekers with searchable resumes
Long-term accounts to save you more money
Accounts start at just $39.95 per month
Flexible employer packages to fit any size budget
Modify your ad as your recruitment needs change
Tracking feature to monitor your ad's performance
All ads includes membership to online talent database
Change ad categories as many times as you want
Ads rotate continuously for optimal exposure
It's free to check the talent in advance. Once registered, you are able to contact the talent directly to negotiate the best terms. Employers who may benefit include photographers seeking fresh faces, webmasters wanting exclusive content, producers shooting actors/actresses, audiotext companies hiring psos, studios seeking webcam models, recruiters searching for newcomers, bars and clubs booking entertainers, reality shows casting performers, and adult companies hiring support staff. If you have further sales questions, click here.